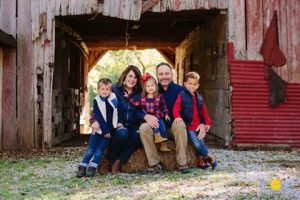 Beth grew up in Anderson, Indiana.  She attended Cedarville University in Ohio for her BSN.  She went on to Indiana University for her MSN- PNP degree.  She then attended University of Indianapolis for a post- graduate degree for her Family Nurse Practitioner.  She did more classwork at University of Texas at Arlington for pediatric acute care.
Her clinical practice has included primary care, ER, urgent care, Neurosurgery, Oncology, and ENT.  She has over 20 years experience as a nurse practitioner.
She has been married to Ken for 8 years. They have three children- Jack age 6, Levi, age 5, and Kit age 3.  She enjoys spending time with her family, serving at her church, travel, and reading.  She serves on The Second Story, a coalition of churches working together to find homes for every waiting child in Collin County.